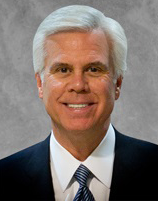 The Coriell Institute for Medical Research is proud to announce the addition of longtime South Jersey community leader and philanthropist George E. Norcross III to its Board of Trustees.
Norcross' legacy as a vocal advocate for the city of Camden and its health care and life sciences industries makes him a perfect fit for Coriell, a leading research nonprofit which was founded in the city nearly 65 years ago and has called it home since.
Norcross currently serves as the Chairman of the Board of Trustees for the Cooper Health System, Cooper University Hospital and MD Anderson Cooper Cancer Center. He has served as a Trustee of Cooper University Hospital since 1990. In his time at Cooper, he led several initiatives which revolutionized health care for the city along the Delaware River, including a partnership with MD Anderson Cancer Center, one of America's premier cancer centers, to create the MD Anderson Cooper Cancer Center. Norcross was added to MD Anderson Cancer Center's Board of Visitors in 2015.
"For nearly 65 years, Coriell has been pushing global science forward from right here in Camden. I'm eager to join this renowned team and look forward to continuing the institute's tradition of support for the community through scientific education initiatives," Norcross said.
Coriell's President and CEO Michael Christman, PhD, said, "Board Chair Bob Kiep and I are very excited to have Mr. Norcross join our board. Coriell and Cooper have a shared interest in genomic medicine and a longstanding history of working closely together. The addition of Mr. Norcross will further cement the important partnership between Coriell and Cooper."
Through his family's foundation and as benefactor for the Cooper Foundation, Norcross has made significant contributions toward the cure for rare diseases – a mission especially important for Coriell – as well as art and safety programs for the area.
Norcross is also executive chairman of Conner Strong & Buckelew, one of the nation's largest insurance, risk management and employee benefits brokerage and consulting firms. Norcross has been the head of Conner Strong & Buckelew and predecessor companies since 1979.
About the Coriell Institute for Medical Research
The Coriell Institute is a global leader in understanding how our personal genomes affect our health. Coriell is recognized as one of the world's leading biobanks, distributing biological samples and offering research and biobanking services to scientists in over 70 countries around the globe. Coriell is the trusted steward of world-renowned collections for the National Institutes of Health, disease foundations and commercial clients. A pioneer in genomics, Coriell is examining the utility of using personal genetic information in clinical care through the Coriell Personalized Medicine Collaborative (CPMC) research study (cpmc.coriell.org). The institute is also unlocking the promise of induced pluripotent stem cells and their role in disease research and drug discovery. For more information, visit www.coriell.org, like us on Facebook or follow @Coriell_Science on Twitter.