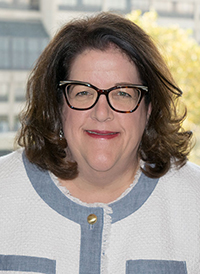 Interim Chief Financial Officer
Denise Buscher is interim Chief Financial Officer at the Coriell Institute for Medical Research. As such, she oversees the financial health of the Institute, leads the organization on major strategic decisions, and manages all aspects of financial planning, analysis, reporting, and forecasting.
Denise is a results-oriented and decisive leader with proven success in cost management, strategic thinking and problem solving. Her expertize includes maintaining compliance with the National Institutes of Health, the Internal Revenue Service, and Generally Accepted Accounting Principals regulations.
She has 30 years of experience in nonprofit finance and accounting—more than 25 of those years spent at Coriell. She started at the Institute as a staff accountant, and was promoted several times to Accounting Manager, Manager of Contract and Project Financials, and Controller before taking the role of interim Chief Financial Officer.
Denise earned her Bachelor of Science degree in Finance and Accounting from the University of Charleston, West Virginia.