Log into STEM Wizard in order to begin familiarizing yourself with your account.  Upon logging in, you will see the judge milestones. Each milestone contains a series of questions which should be completed as early as possible.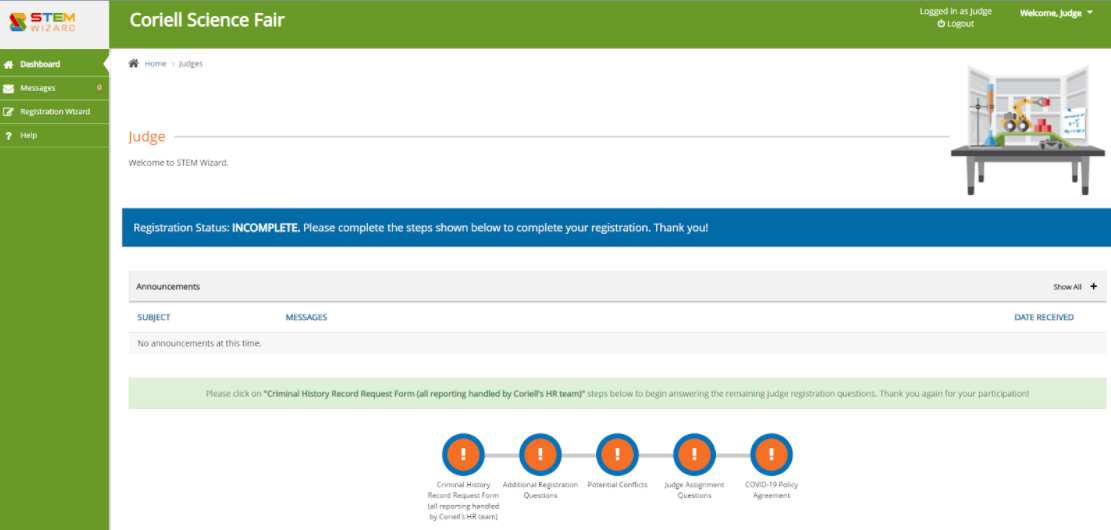 Understanding Milestone Symbols
| | |
| --- | --- |
| | When you have not completed a milestone, it will be marked with an orange exclamation point. All milestones will initially appear this way. |
| | When you complete a Milestone, it will automatically turn to a green checkmark. |
Judge Milestones
1. Additional Registration Questions
This milestone asks for details on your educational background. 
2. Potential Conflicts
Here you will declare any potential conflicts for judging. Having a conflict does not preclude  you from judging, it simply helps us create the fairest judging assignments. 
3. Judge Assignment Questions
We do our best to match judges with a category of their preference, so in this milestone you can let us know which areas you are most comfortable with and interested in. 
4. COVID-19 Policy Agreement
By completing this milestone, you confirm you have read and agree to Coriell's official COVID-19 policy.  To view our policy, click here.
Completion
Once you have completed each step, your home page will display a green check mark in each milestone. The blue banner along the top will confirm your registration is complete.