How Coriell's Founder Gave America its First Hope in Curing the Disease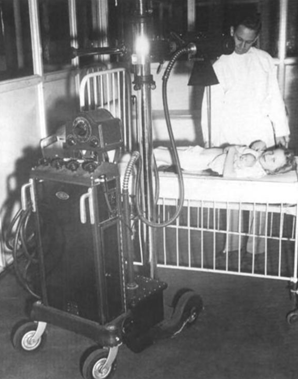 While we at the Coriell Institute keep our eyes to the horizon of science and medicine, it's often helpful to look to the past as inspiration for the future. Coriell has a one-of-a-kind legacy, but its story actually begins several years before what's now the Coriell Institute was formed. It begins more specifically with the work of our founder, Dr. Lewis L. Coriell, in the war against polio.
Before establishing the research institute we know today, Dr. Coriell built his reputation as a virologist at the Children's Hospital of Philadelphia. According to author John O'Donnell in "Coriell: The Coriell Institute for Medical Research and a Half Century of Science," he witnessed there children suffering from the common viral ailments of the time—such as measles and mumps—and, according to O'Donnell, believed that vaccinations could prevent much of this suffering, if only certain scientific hurdles could be cleared. One such hurdle was that, at the time, scientists lacked the knowledge and tools needed to grow these viruses in the lab.
In 1949, Dr. Coriell moved from CHOP to what was called Camden Municipal Hospital for Contagious Disease (CMH). O'Donnell wrote that CMH at the time served more as a facility to isolate contagious patients, but the hospital saw radical change under Dr. Coriell, its new director. Dr. Coriell lobbied for and received funding to build a new laboratory focused on researching tissue and cell culture techniques (which was later constructed in a linen closet under the basement stairs). He also reinforced the hospital's mission to care for, not simply quarantine, patients and hired a talented young Dr. Lois Murphy to fill the newly created assistant director position.
But Dr. Coriell's biggest impact in those early years came from his work on polio. At the time, a polio epidemic raged through the United States. Tens of thousands were diagnosed with the disease in 1949 with children the most susceptible—more than 2,000 died that year and many more were left paralyzed. As CMH dedicated a new space for the care of these often young patients, researchers were hunting for a cure.
One of those researchers, Dr. John Enders, learned that Dr. Coriell had developed a method of growing the chicken pox virus in a lab setting and visited with him to learn it. According to O'Donnell, Dr. Enders imparted this knowledge to a man on his team named Thomas Weller who later tried this technique on the poliovirus and found success. The virus that terrified the world could now, for the first time, be reliably cultured, leading to hope for vaccine. Enders, Weller and another member of their team were later awarded the Nobel Prize for their breakthrough.
In 1951, Dr. Coriell was selected to be the field director for the Polio Prevention Study, a double-blind test of a gamma globulin inoculation. It was left to Dr. Coriell's team to identify areas to test this new, experimental vaccination, to train doctors and nurses on how it was to be administered, and to follow and observe the many patients and, according to O'Donnell, Dr. Coriell's experience as clinician, virologist, and administrator made him an ideal pick.
In late summer of that year, Dr. Coriell took his team of 30 to Provo, Utah to administer the first test inoculations. Polio was spiking in the region and the team inoculated thousands of children. The following June, Dr. Coriell's team headed to Houston and inoculated more than 30,000 children in 11 days, then to Iowa where nearly 16,000 children received shots.
After Iowa, it was time to look at the data. In total, 54,773 children received shots and of the 27,402 that received the inoculation in the double blind trial, just 26 developed the disease. This was welcome news to a nation wearied by polio and proved that inoculation was indeed a viable weapon in the fight against the disease.
Dr. Coriell returned to Camden Municipal Hospital a national figure, O'Donnell wrote. He received funding from the National Foundation for Infantile Paralysis to continue his inoculation research at CMH and local leaders recognized Dr. Coriell as something of a local treasure. When he later asked these leaders for funding to start a new institute—one focused on research and the standardization and improvement of cell culture techniques—they opened the coffers, not only because of his national status, but because they knew from his time in Camden that Dr. Coriell was genuine in his commitment to the city and South Jersey.
Dr. Coriell's envisioned institute was officially launched in 1953 under the name the South Jersey Medical Research Foundation (SJMFR) and construction began shortly after on the group's new facility in Camden's Whitman Park neighborhood.
In the decades following, the SJMRF established its lauded biobank, conducted research on cancer, developed laminar flow hood technology, underwent name changes, advanced cell culture techniques and continued to push science forward through its biobanking, research initiatives, and lab services. In 1985, Dr. Coriell retired and the reins were handed to Dr. Gerard "Gary" McGarrity, a longtime collaborator of Dr. Coriell's, and the institute was renamed a final time to the Coriell Institute for Medical Research in honor of its founder, the physician virologist who helped tame polio.