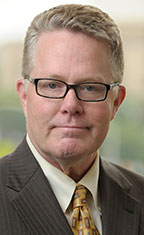 South Jersey Biz, a magazine covering business in the southern half of the Garden State, has included Michael Christman, PhD, Coriell's president and CEO, on its Power 50 list for 2017. The magazine organizes a Power 50 list each year to document the region's most influential business leaders.
Dr. Christman joined the institute in 2007 and quickly organized the Coriell Personalized Medicine Collaborative, an ongoing study evaluating the utility of genomic information in health care when combined with detailed family, lifestyle and medical histories. Now 10 years later, the CPMC has more than 10,000 enrollees and Coriell has launched a for-profit company to help doctors make sure their patients are prescribed the best possible medicines for their genetic profiles.
Prior to joining Coriell, Dr. Christman served as professor and founding chair of the Department of Genetics and Genomics for Boston University School of Medicine where he led an international team of scientists in one of the first genome-wide association studies using the Framingham Heart Study cohort, published in Science magazine.
Dr. Christman shares the list of Power 50 with Governor Chris Christie of New Jersey, Jim Cawley, president and CEO of United Way of Greater Philadelphia and Southern New Jersey and former lieutenant governor of Pennsylvania, and Dr. Ali Houshmand, president of Rowan University in Glassboro. Click here to read the entire list.