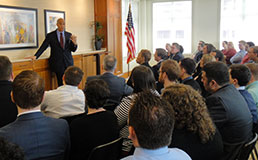 Coriell Institute welcomed Cory Booker (D), the United States Senator from New Jersey, for a visit in late March.
Senator Booker toured the Coriell laboratories while accompanied by United States Representative Donald Norcross (D, first congressional district) and Camden City Mayor Dana Redd.
The group met with Coriell's President and CEO, Dr. Michael Christman, before traveling the Institute and speaking with scientists and staff in the molecular biology and stem cell laboratories, in addition to the Genome Center and biobanking facility.
Afterward, Senator Booker held a free-ranging town hall discussion and expressed how impressed he was to learn more about the world-class research being conducted in the heart of South Jersey.
"I'm really blown away from what I just saw and learned about what you do," Senator Booker said while addressing Coriell staff. "By the fact that right here in Camden New Jersey we are global leaders in biobanking and are on the cutting-edge of so many other aspects of research."
The Senator, a vocal advocate for economic opportunity programs, gender equality in the workplace and the adoption of science, technology, engineering and mathematics (STEM) education initiatives, won election in 2013 and has since been called upon frequently to represent New Jersey politics on the national stage.
Furthermore, his proclivity to endorse and actively pursue bi-partisan political practices in order to bridge the party divide has earmarked Senator Booker as one of the most influential and capable leaders in the country.
"I made it a big point to let people know that I was not running to be a democrat in Washington," Senator Booker said while relating one of the major thrusts of his election campaign. "I was really running to try and start fixing a lot of the partisan divides that ail our country. If we were running this nation like America, Inc., we would all be liable for shareholder lawsuits because the board of directors – i.e. the Congress people – seem to be doing a lot of things that are inflicting a lot of harm on our economic growth."
Senator Booker resides in Newark, where he served as mayor from 2006 to 2013, during which time he was able to dramatically reduce the city's crime rates while also ushering in a period of economic resurgence. He currently serves on several key Senate committees, including Commerce, Science and Transportation and Small Business and Entrepreneurship.
To learn more about Senator Booker and his policies, follow him on Twitter @CoryBooker, where he regularly engages with his audience.