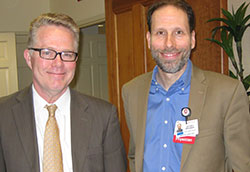 In mid-January, Coriell Institute welcomed one of the nation's most influential healthcare reform experts, Dr. Jeffrey Brenner.
A recipient of the prestigious MacArthur Fellowship, or "Genius Grant," and a primary care physician working in the City of Camden, Dr. Brenner has distinguished himself as a visible innovator advocating on behalf of health systems optimization.
While at Coriell, he met with leadership and delivered an insightful talk to staff titled "Using Healthcare Data to Build Interventions for Complex Patients."
"We have built something to be proud of," Dr. Brenner said while alluding to the incredible progress the modern medicine paradigm has made in recent decades. "We can bring people back from the brink of death. The problem is we don't know when to stop. We've allowed the healthcare system to run amok."
For more than a decade, Dr. Brenner has compiled data, examined trends and raised essential and difficult questions about the efficiency and effectiveness of the clinical point-of-care model as it exists.
Providing primary care in a city plagued by socioeconomic hardships and struggling under the weight of a crippling crime rate, Dr. Brenner spent the early 2000's treating severely impoverished patients and working with area hospitals to better understand admission and treatment patterns.
It was by exhaustively combing through datasets that he made several remarkable discoveries, including a startling revelation indicating that 90% of hospital costs in Camden were spent treating just 20% of patients. One patient in particular, over a six year span, cost insurers more than $3.5 million, a finding that became the subject of a 2011 New Yorker article and sparked a national conversation.
"This is not a poverty phenomenon," Dr. Brenner asserted in his talk. "It's a healthcare phenomenon."
In response to this systemic failure, Dr. Brenner formed the Camden Coalition of Healthcare Providers in 2003, a 360-degree organization uniting community doctors, health coaches and hospital partners committed to eliminating healthcare waste while emphasizing preventative care. An unassuming non-profit with a mission to make Camden the first American city to bend the healthcare cost curve, the Coalition functions in tandem with the city's three chief institutions, Cooper University Health Care, Virtua Family Health Center and the Lourdes Health System, and employs a proprietary data collection and management system to manage high-risk patients.
With the goal of "helping patients become much better advocates for their own care," Dr. Brenner's organization interfaces directly with high priority individuals and provides assistance through the process by making bedside visits, developing medication management plans and accompanying them to routine doctor visits.
The effort is part of a much-needed directive, according to Dr. Brenner, to inform and educate patients; challenge physicians to question established norms; and incentivize hospitals to retool a system that may soon prove to be unsustainable.
Projecting forward, Dr. Brenner believes the emerging field of population health, which incorporates aspects of sociology, psychology, anthropology and nonlinear mathematics, will inform a "box-by-box clinical redesign of the healthcare system." He also anticipates a "disruptive innovation," be it industry, technology or consumer-oriented, will be a major driving force for change.
"Systems flip when enough people are hurt by the status quo."
To learn more about trailblazing work being done by the Camden Coalition of Healthcare Providers, visit camdenhealth.org.