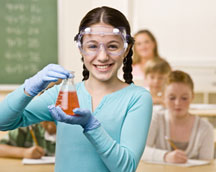 Dear Science Enthusiasts,
Here at Coriell Institute we've had a busy few months preparing for the 2024 Science Fair, which will take place Saturday, March 16 at Camden County College in Blackwood, NJ.
We're very pleased to announce that the Stem Wizard Portal – the convenient electronic system you used last year to register projects and manage participation – is now open for the 2024 Fair for teacher registrations.
Make sure to bookmark www.coriell.org/education/science-fair, where you can access Stem Wizard and stay current with important Fair updates.
Returning teachers can log in to the Stem Wizard using the credentials you registered last year. If you have trouble recollecting your password, click the "Forgot Your Password?" link on the login page to receive a reset prompt.
Please note that you need to register before your students begin registering their projects.
Please also note that new 2024 project accounts will need to be created for returning students. This means you will complete the basic registration process to enroll your student's 2024 entry. You will also need to have access to a valid student or parent email address, as we are requiring them this year during registration.
Email your questions to sciencefair@coriell.org and look for updates from Coriell in the upcoming months.
Student registration is now open. Please register using Stem Wizard.
---
Each year, we are thrilled to showcase the very best of South Jersey's science programs. Bright, young students from Burlington, Camden, and Gloucester counties in grades 6 through 12 have the opportunity to demonstrate their passion for science in exceptional projects that span the sciences, including biochemistry, botany, computer science, mathematics, medicine and health, physics, and zoology.
Coriell Science Fair winners advance to the Delaware Valley Regional Science Fair (DVSF). DVSF winners can advance to the highly-acclaimed Regeneron International Science and Engineering Fair.