IPSCs at Coriell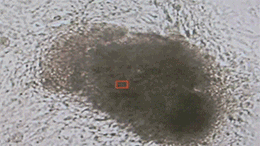 At Coriell's Stem Cell Laboratory, we establish and bank high quality human iPSCs and mouse embryonic stem cells (mESC).  We also bank iPSCs for external scientists and develop, in-house, iPSC lines for distribution to the scientific community. We have been contracted by multiple agencies, including the National Institute of General Medical Sciences (NIGMS) and the National Institute of Aging (NIA), as well as academic, non-profit and commercial organizations to generate and characterize human iPSCs and mESCs.  See our stem cell services list for a complete list of the services we offer.
Coriell has developed core scientific capabilities to maintain, characterize, bank, and distribute only the highest quality iPSCs and mESCs available. Our labs operate under the most stringent standard operating procedures including performance of quality control testing and assessment of pluripotency using a variety of technology platforms.
We constantly evaluate current operating procedures to reflect necessary changes from the ever-evolving stem cell field. Coriell has established a series of state-of-the-art technology platforms including Sendai & episomal reprogramming on feeder-free & feeder-dependent systems and rigorous analyses for identification and characterization of iPSC and mESC lines.
All services are performed under stringent quality control procedures, and each characterized cell line is accompanied with a detailed Certificate of Analysis (CoA) upon completion. The CoA includes information regarding characterization and quality of the line, images and links to original publications.
Interested in working with us? Click the button below to submit a proposal or call us at (800) 752-3805 (US) or (856) 757-4848 (World) to learn more about how we can help you.
The iPSCs distributed by Coriell are strictly for research purposes and cannot be used in human subjects. All terms described in the repository's Material Transfer Agreement (Assurance Form) for the stem cell line must be agreed to prior to using stem cell lines from Coriell. Investigators must be aware that stem cells require special media and handling. All stem cell lines are shipped frozen on dry ice. Investigators interested in obtaining these lines are encouraged to review the culture protocols and FAQs for freeze recovery, passaging, and cryopreservation information before placing their order. Customers who have technical questions can email stemcellbiobank@coriell.org for further information.
Please always refer to the individual cell line's CoA for the specific cell line culture conditions.  Protocols are available on the appropriate repository page but should only be treated as general guidelines.