Grant Supports the National Human Genome Research Institute's Sample Repository for Human Genetic Research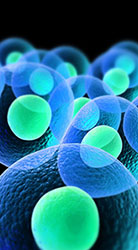 Coriell Institute for Medical Research, a leading source for unique research biospecimens, has won a $4.25M grant from the National Human Genome Research Institute (NHGRI), a division of the National Institutes of Health (NIH).
The five-year award supports the NHGRI Sample Repository for Human Genetic Research, a powerful collection of high-quality cell lines and DNA housed at Coriell and distributed to the global research community.
"Pursuing human health improvements with exploration of the genome and genetic variation is an important aim," says Dr. Michael Christman, president and CEO of the Coriell Institute.
"The NHGRI Sample Repository ensures that researchers and institutions have access to the tools required to study human genetic variants and their association with disease susceptibility and other common traits."
The NHGRI Sample Repository includes the samples used by the International HapMap and 1000 Genomes projects, which have made significant contributions to the scientific and medical fields.
Samples are accessible through the Coriell Institute and have genotype and sequence data. Donors gave broad consent for use of the samples, therefore no identifying or phenotypic information is available.
"By providing the research community with a standard set of biomaterials of known provenance, the NHGRI has developed a central resource for genome-based studies," says Dr. Alissa Resch, the repository's principal investigator at Coriell. "These resources are critical in the efforts to take full advantage of the Human Genome Project and understand the genetic origin of disease."
Since its establishment in 2006, the NHGRI Sample Repository has distributed biospecimens to researchers in 40 countries.
In addition to the NHGRI Sample Repository, Coriell maintains several NIH-funded collections, including the National Institute of General Medical Sciences' (NIGMS) Human Genetic Cell Repository; the National Institute on Aging's (NIA) Aging Cell Repository; the National Eye Institute's (NEI) Age-Related Eye Disease Study Repository; and the National Institute of Neurological Disorders and Stroke (NINDS) Human Genetics Repository.


About Coriell Institute
Coriell Institute for Medical Research is recognized as one of the world's leading biobanks, distributing biological samples and offering research and biobanking services to scientists around the globe. A pioneer in genomics, Coriell is examining the utility of genetic information in clinical care through the Coriell Personalized Medicine Collaborative (CPMC) research study (cpmc.coriell.org). The Institute is also unlocking the promise of induced pluripotent stem cells and their role in disease research and drug discovery. For more information, visit www.coriell.org or follow @Coriell_Science.